[short url]
Music
Cathryn Craig / Brian Willoughby at the BBC
Wednesday, March 11, 2009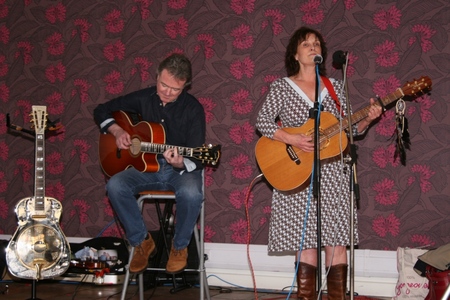 Arriving home from work a couple of weeks ago, Mike and I found a message from Brian on our answerphone inviting us to attend a special lunchtime event in London at the BBC Club. Plans were quickly put in place to take time off work and we were delighted to discover that we were among a specially invited small audience which made the event even more special as many were B & C fans with whom we were already good friends.
The performance was supposed to be 3 numbers, but finally ran to 6 - everyone was totally captivated by the pure emotion of Cathryn's voice as she sang a selection their songs from
Calling All Angels
their latest CD, most of which have incredibly personal lyrics and draw you in, leaving you with the feeling that you know the people in the songs. Despite having heard the words many times before this has to rate as one of the best performances by the duo that I've seen. Was that a tear in my eye ? No, of course not..... well......maybe...... ok.... I confess. Brian, as usual, said very little, prefering to let his guitar do the talking which it did to great effect.
All I can say is, I hope the the great and good from the BBC appreciated this lunchtime special as much as the rest of audience. Maybe we'll be hearing more of Brian and Cathryn on the Radio ? Fingers crossed ! ( Pun intended !! ) - don't get it ???
click here
I'm slightly ashamed to say that I don't yet own a copy of
Calling All Angels
- especially as I understand that Brian and Cathryn chose much to my delight, to use one of my photographs in the artwork - however this situation will be rectified shortly and I do have an excuse !! We were not expecting to see them before their appearance at Dartford Folk Club on 24th March and had decided to wait until then to get our copy.
UPDATE March 24th
We are now the proud owners of
Calling All Angels
- a really excellent cd with a great booklet too !
For those of you who can't get to a date on the current tour, why wait ? Buy one now, direct from their
website
Review by Nigel Bennett
On Wednesday 11th March at the BBC Club Brian and Cathryn, in front of various production teams from the corporation and the gathered throng well wishers, showcased a short set of songs, most of which feature on their recent album Calling All Angels.

It's fair to say that the set was extremely well received and what had I thought originally had been planned as a 3 song set, expanded merrily to 5 plus a much demanded encore of Cotton Fields / Window faces South which rounded off the afternoon session in energetic fashion as Brian demonstrated his virtuousity, whilst the audience participated themselves by joining in very enthusiastically on the chorus.

The afternoon had started with the Craig / Foster penned Two Hearts One Love, a particular favourite in their set list with Cathryn's vocal range demonstrated in a fine fashion. The song finished with yet another of those stunning guitar flourishes from Brian.

Next up the duo were joined by Antonia Pagulatos on the much heralded "Alice's song", which has certainly had a bit of a makeover and now includes Antonia's skilful mood filled playing which enhances the emotions within the song.



Antonia continued on the next two numbers; the title track from their new album and Genevieve. Each song holds attention for the very best of reasons, strong story line driven lyrics and sheer musicianship. Those in attendance certainly let their feelings be known by showing their appreciation.

Accanoe is a song driven by the ethenicity of early American history and the percussive nature of the song stood out well alongside the melodies of earlier songs. The end of the song brought rousing applause and calls for an encore. Is this sort of thing allowed at the BBC I wondered ?

Well we certainly got one …an unaccompanied "River Deep …Mountain High" brought further audience vocal participation, before Cotton Fields and Window Faces South interspersed with some more stunning guitar playing brought an end to proceedings.

It was still early afternoon so plenty of time to chat, before departing homeward.

One final thought …. Calling All Angels has now been out for few weeks and have to say it is a disc that has the "feel" of absolute class. Why not have a listen.