[short url]
Music
Hot Rats Dickensian Xmas 08
Tuesday, December 9, 2008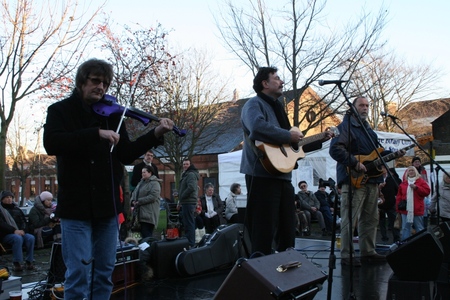 The Hot Rats play at Rochester's Dickensian Christmas 7th Dec 08
Not content with entertaining us all at the Strawbs annual Xmas Party on 6th Dec, some 12 hours later fiddle player
Ian Cutler
was in action yet again.
Mike and I decided to stop off enroute home from the NPL to catch the
Hot Rats
performance as part of Rochester's Dickensian Christmas.
Luckily, despite being very cold, the weather was dry - just as well, since the Hot Rats were playing on an uncovered, outdoor stage along the main road. The crowds were out in huge numbers for the event, with many local residents and shop keepers in costume. I almost wished I'd worn my Grace Darling outfit from last years party - I would have fitted right in !
The
Hot Rats
-
Ian Cutler, Doug Hudson
and
Mike Peters
, always attract a large crowd whenever they play in the Medway area, and today was no exception. Their music and fun is so energetic that the audiance find it hard to stand still, and folks of all ages were seen dancing. One gentleman in particular stole the show, explaining to Doug that "another band" had banned him from dancing. This reaction seemed a little extreme until you realised that not only did he dance, but he also carried on a running conversation with Doug while the band was trying to play. Ever the master in the craft of handling an audience, Doug chatted along and there was a great deal of good natured banter between them, much to the amusement of Ian and the watching audience.
A quick walk round to see some of the costumes and it was finally time to head home after a very fitting end to a weekend of good friends and great music.
More of my photos from the day can be seen
here