[short url]
Music
Blue Angel Orchestra Putney 22nd Oct 08
Thursday, October 23, 2008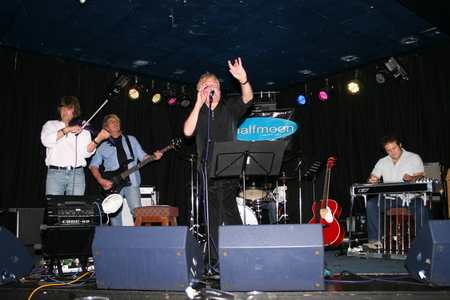 The Half Moon, Putney
A trip of 80 miles to Putney turned into something of a marathon for Mike and I, the drive there taking 3 hours through rush-hour traffic. Despite a low turn out for the event, the sound was superb and I think this has to be the best yet performance by the BAO and what the audience lacked in numbers they made up for in enthusiasm.
As Pete says in his review below, the addition of steel guitar was something that seasoned fans were a little unsure about before the music started, but I'm sure every single one of us was won over by Melvins playing.
Since the evening was being filmed I only took a few pictures, but those can be found in the
Photos
section.
Review and set list by Pete Bradley



Sadly, a fairly low turn out last night for the Blue Angel Orchestra. Only around thirty people were there, which meant that the Half Moon had set out tables. Think that the last time that the BAO were at Putney the place was heaving, so I guess it's a worrying sign that recession is beginning to bite.



Last time we saw the Strawbs at Putney, there were some fairly serious gremlins with the sound. Happy to report that there was no re-occurrence of any of that, and the sound was brilliant. In the second set, Chas's bass was turned up beautifully loud, which meant that you could feel each note.



Like an episode from a soap opera Anderson (Miller not Pamela) was replaced by Duffy (Melvin not Patrick) and everyone was interested to know how the BAO would sound with such a major change. This was not just a guitarist being replaced by a different guitarist, (which itself could be quite radical), it was a rock guitarist replaced with a steel guitarist. There was quite a danger that this would not work



To prolonge the anticipation, the first set comprised a duo with Melvin and Dave. They played six songs all from Secret Paths. This was the first time that the two had played live on stage together, and the sound was as good as on record, despite the engineering, mastering, mixing etc that goes on in the studio.



Really fabulous to hear so many rarer Strawbs songs. Made it quite difficult to keep a set list, as I'd heard so few of the songs live before. (This was the first time that Canada had been played live in the UK).



First half - Dave Cousins Melvin Duffy
I Turned My Face Into The Wind
Ringing Down The Years
I'll Show You Where To Sleep
Song Of A Sad Little Girl
Canada
Beat The Retreat

Second Half - Blue Angel Orchestra
Never Take Sweets From A Stranger
Skip To My Lou
Shepherd's Song
Mellow Moon
Lonely Days, Lonely Nights
Orange Blossom Special
Hellfire Blues

Encore
Falling In Love Again


The steel guitar was really relaxing. If we'd got any more laid back we'd have fallen off our chairs. At the end of the first set, I don't think anyone would have complained if it had been announced that the second set would be more of the same.



Clearly, the steel guitar fitted well with these slower, gentler songs, but it was hard to imagine how it was going to work with the bluesier, rockier BAO numbers. Happy to report it worked really well. Normally, I'm not a fan of the steel guitar, but must confess, I'm warming to it.



Sadly, I didn't get a chance to talk to Melvin, but I really enjoyed watching him play. You could read his expressions like a book. The Blue Angel songs were all very new to him, and you could tell he was nervous. Before playing anything he looked terrified that he was going to get it wrong, then he was wrapt in concentration looking for a cue from Dave or Ian, then his expression switched to pure pleasure as the notes poured from his guitar, followed by a naughty school-boy grin afterwards as if he was thinking, "Got away with it this time", followed by more terror as the realisation that there was another verse hit him. Not only did he "get away with it", he stormed it. Have to say that the version of "Shepherd's Song" was way better than any previous version I'd heard before.



The steel guitar played as a rock instrument is a bit like a violin, so the Blue Angel Orchestra was even more orchestrated than normal. Momentarily I thought that Melvin might even take the lead during Orange Blossom Special, or that they'd play it as a duel. Maybe one day.

A real shame that there weren't more people there to enjoy it. Hopefully not the last time we see Melvin, so maybe next time they won't be playing under quite such a crowd-less sky.
Pete