[short url]
Gordon Giltrap
Guitar String Jewellery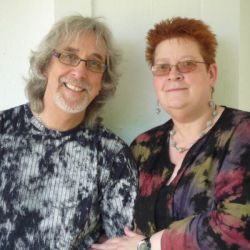 My name is
Kaz Boulton
, I am a conceptual artist who started to make my own jewellery to satisfy my need for individuality especially for the opening night of shows. I started to get asked by friends and family to make individual pieces for them. I started making twisted wire jewellery about a year ago, making presents for friends and family.
I have known
Gordon
and
Hilary
for a few years through Gordon's music and consider them great friends of mine; I was commissioned by Gordon and Hilary to make a set for a friend and started selling jewellery at Gordon's concerts - it was not planned it just happened.
Gordon has for years saved his used guitar strings, signed them and given them away in exchange for donations to charity which was a great way of using and adding value to technically a waste product. We all believe in recycling and finding new uses for redundant products, so this adventure started with a daft idea of 'could I make jewellery out of guitar strings ?', the easy sensible answer was no, but after a few days and weeks of trial and tribulation I came up with a successful formula for a bead, then a set and then the packaging.
My ordinary twisted wire bead sets take about five and a half hours to make but the guitar string ones take a quite a while longer. They are much harder on the hands to work with.
I hope you like the jewellery and if you buy a set I hope you enjoy wearing them, they are very unusual, will be a very limited edition and a great way of recycling.
The sets of jewellery are made up of the following materials:

Chain, fittings and ear wires are Sterling Silver.

Each set of handmade beads are made from at least one set of guitar strings (Gordon's recycled guitar strings) and each bead contains silver plated copper wire.

The necklace length is approximately 18 inches (46cm) Longer lengths can be made upon request when ordering.

There might be a slight difference in the colour of the sets of jewellery depending on the type of guitar strings used, but each set will match as a set is made from one set of strings or if two sets have to be used a set will be made from the same make of strings.

The sets can take up to three weeks to send out as they are individually made to order.

Each set comes in a beautiful presentation box with a signed and numbered certificate from Gordon and I as part of a limited edition. The certificate explains how it all came about and our connection and friendship.

The first design will be limited to a production run of 25 only.

Contact details

To order : Email Me or phone 07881 960305

Price £35 postage and packaging with insurance will be £6

£5 from every sale is donated to the North Staffordshire Branch of the MS Society
Thank you for your interest in this product
Kaz