Completed Sites
Gordon Giltrap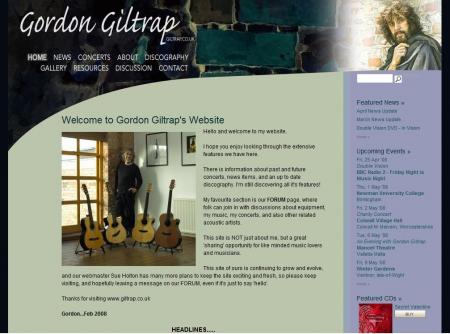 Gordon's was the first site I worked on. He already had an existing site, but felt it was time for a change. He asked me if I would take over the task of building and running his site for him. We wanted a new site that was more comprehensive and updated much more frequently.
After a lot of research, I came across the Slab500 sites, and knew that the format would be perfect for Gordon. It allows me to provide far more details about events such as concerts and other news and because older items can be archived rather then deleted, it gives his fans an ever increasing resource.
Quote from Gordon:
'Sue.....it's getting better by the day this old site of ours, you really are a star!
Will NEVER take for granted your outstanding input to this site, you're a one off and irreplaceable.
Thanks to Mike also...such good pals.'
The reaction to the new site from users was amazing and led on to requests to work on sites for other people.
Wow, absolutely super site Gordon, congratulations Sue.
I love the links, and so much to play and watch!
It all runs sweetly, but it's going to take me a little while to explore all the sophisticated bits!
sincerely,
Christine & David
This is fantastic. A hugely better site than before, which I thought was workmanlike, but not very attractive or user-friendly. This is a great leap forward for Gordon. Well done Sue.
Peter L
Wow indeed, David!!
Superb job Sue - Absolutely Fabulous!! - Well Done!!
The new appearance is really great, but the additional functionality you have built in is truly fantastic.
Congratulations Gordon, and I wish you and Sue much well earned success with your new Site.
Now, back to ogling those guitars ...
Rick.